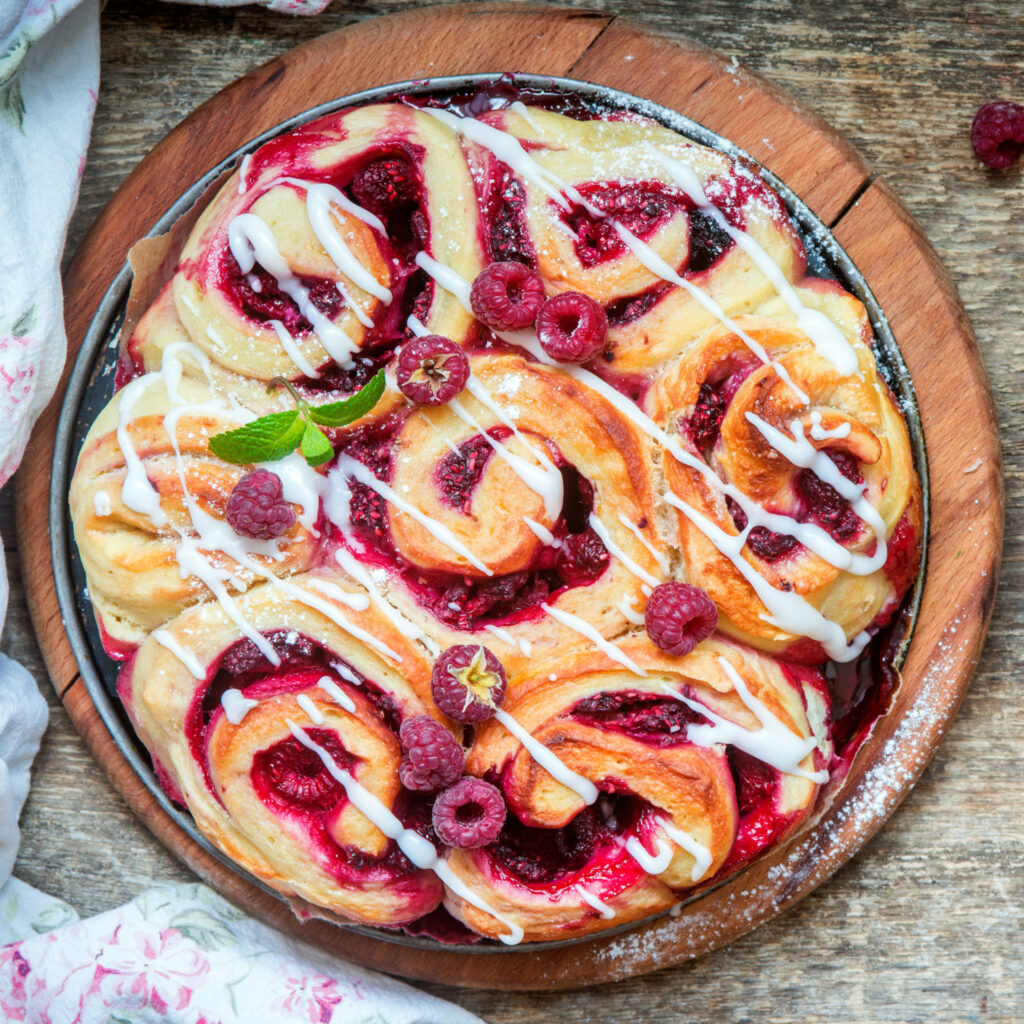 Soft, fluffy, melt-in-your-mouth Raspberry Sweet Rolls are a fun, fruity twist on classic cinnamon rolls. They're swirled with fresh raspberries and topped with luscious cream cheese frosting that's accented with bright, citrusy lemon notes.
These rolls are fancy enough for Sunday brunch, yet humble enough as a treat to go with your morning coffee. The recipe has more steps than others, but the time spent making these rolls is totally worth it. Get your family in on the fun!
INGREDIENTS
For dough:
2 pkg. yeast (4½ teaspoons)
6 Tbsp. unsalted butter (or shortening)
1 cup granulated sugar
1 Tbsp. salt
2 cups hot water
9 cups unbleached all-purpose flour, divided
2 eggs, beaten
For filling:
½ cup unsalted butter softened
½ cup light brown sugar, divided
3½ cups raspberries
1/3 cup granulated sugar
zest of one large lemon (reserve 1 tsp. for frosting)
1½ tsp. cornstarch
For frosting:
4 oz. cream cheese, at room temperature
1/4 cup unsalted butter, at room temperature
1 cup powdered sugar
1 tsp. lemon zest
DIRECTIONS
1. Add yeast to 1 cup of lukewarm water. Stir with a spoon and set aside for about five minutes.
2. To make the dough: Add butter (or shortening), sugar, salt, and hot water to the bowl of a stand mixer and beat for 30 seconds. Let it cool to lukewarm temperature, then stir in 2 cups of the flour and mix until smooth. Add prepared yeast mixture and mix until well combined, then mix in the beaten eggs.
3. Gradually stir in the remaining flour and mix with the dough hook for about 2 minutes. Remove dough from the bowl and place on a lightly floured counter. Knead by hand, adding a bit more flour if it's still sticky. Knead until the dough feels satiny and smooth, then put the dough in a greased bowl and cover with a towel Let it rise for 30 minutes or until it's doubled in size.
4. Remove dough from bowl and place on a lightly floured counter or board. Divide dough in half. With a rolling pin, roll one half of the dough into a rectangular shape.
5. To make the filling: Spread dough evenly with 4 tablespoons of softened butter. Sprinkle dough with 1/4 cup of the brown sugar. In a medium bowl, carefully stir together the raspberries, granulated sugar, lemon zest, and cornstarch. Sprinkle half of the raspberry mixture over the dough.
6. Starting on one of the rectangle's longer sides, gently roll up the dough into a log. Using a sharp knife, cut the log into rolls, each about 2 inches thick. Place rolls into a greased 9" x 13" baking pan.
7. Repeat step 6 with the other half of the dough, using the remaining ingredients. Place both pans of rolls in a warm spot and cover with a towel. Let them rise again until they double in size—about an hour.
8. Preheat oven to 350. Bake both pans of rolls for 25-32 minutes, until golden brown on top. Remove from oven and place pans on a wire rack to cool.
9. To make the frosting (while the rolls are cooling): In a medium bowl, combine cream cheese, butter, powdered sugar, and lemon zest. Using an electric mixer, beat until smooth. Spread frosting on rolls and serve.
Tips:
This recipe makes a lot of rolls! It's pretty simple to halve the amounts of all ingredients if you'd like to make a smaller batch.
Use a piece of dental floss or thread to gently cut the rolls in step 6.
The raspberries will probably ooze out a bit during baking—but that's what makes them so pretty!
Try making these rolls with other berries, like blueberries or blackberries. Or make a mixed-berry version (just be sure to use about 3½ cups total of berries).