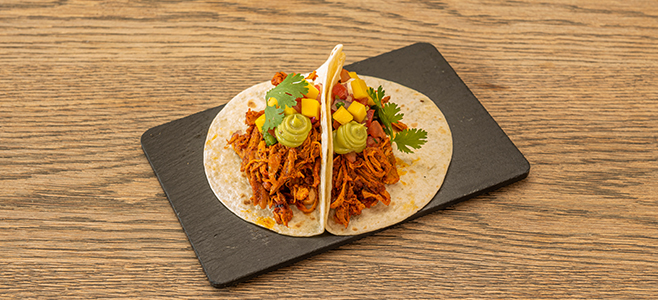 The pineapple slaw that goes in these mouthwatering tacos is so tasty, you'll want to put it on everything! That's fine, but don't forget to try it with this spicy, melt-in-your-mouth pulled pork for a tropical twist on taco night. Mexico, meet Hawaii!
Ingredients:
4 lb. pork shoulder
1 c. barbecue sauce
½ c. brown sugar
Juice of 3 limes, divided
2 Tbsp. garlic powder
2 Tbsp. chili powder
2 tsp. cayenne pepper
½ head cabbage, shredded
1 whole pineapple, cut and diced
2 Tbsp. extra-virgin olive oil
½ small red onion, sliced
2 green onions, sliced
1 tsp. crushed red pepper flakes
8 corn tortillas
Directions:
Place pork in 6-quart slow-cooker. In a medium bowl, combine barbecue sauce, brown sugar, juice of 2 limes, garlic powder, chili powder, and cayenne. Mix together into a thick paste and spread over pork. Cook until tender (5-6 hours on high or 8-9 hours on low); shred with two forks when done.
For pineapple slaw: Combine cabbage, pineapple, remaining lime juice, olive oil, red onions, green onions, and red pepper flakes.
Top tortillas with shredded pork and pineapple slaw and serve.