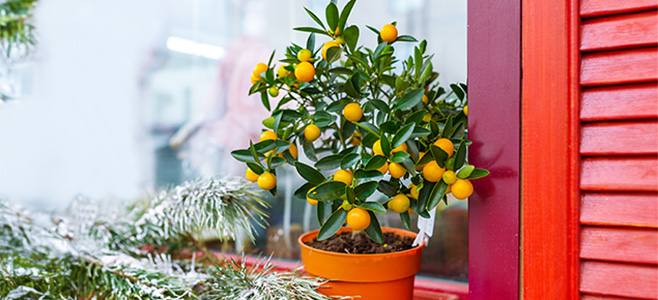 Most people associate citrus with summer: cold glasses of lemonade, key lime pie, and frosty popsicles. However, most citrus trees in North America ripen and taste the sweetest in winter! While we offer over 40 varieties of citrus trees to choose from, here are our top 3 must-have varieties for winter.
This cold-hardy, evergreen citrus tree is a cross between a common lemon tree and a mandarin orange tree. It produces juicy medium-sized, orange-yellow, sweet-tart lemons. It blooms all year round, while harvesting usually happens twice a year: late fall/early winter and late winter/early spring. You can plant the Meyer Lemon tree directly in the ground in USDA zones 8-11 or in a container in zones 4-11. Our Dwarf Meyer Lemon tree also makes a great option for container growing. With the two harvest seasons spanning the winter, this variety will keep you well stocked for a cozy season. Squeeze a wedge into a hot cup of tea or use for a fresh take on a Hot Toddy. The rind emits a spicy bergamot scent that is herbier than a regular lemon. Try using the zest in this Lemon Icing Glaze atop some spiced muffins or toss those unused rinds in a stovetop potpourri to keep your house smelling great.
The Owari Satsuma mandarin is another cold-hardy evergreen tree. It produces palm-sized, seedless, bright orange fruits about 1.8 inches in diameter. They are often mistaken for clementines because they are so similar in look and taste. The fruits have a thin, loose rind which is easy to peel, so they are a great option for kids or people who have a hard time peeling other citrus fruits. Like the Meyer Lemon, it is best suited for in-ground planting in zones 8-11 and in containers in 4-11. Owari Satsumas are in season from December to January but be mindful; if they go unpicked too long, they can become puffy and tasteless. Eat them fresh for a dose of immune-boosting vitamin C during cold and flu season. Because they have tough membranes and firm flesh, they are also great for canning, so you can have fresh citrus all year round!
Calamondin (also called Calamansi) trees are a cross between a tangerine and a kumquat. They produce a small, thin-skinned and tart citrus fruit that is orange in color and 2-3 inches in diameter. Calamansi has an earlier harvesting time frame (June through November), so they are popular around the holiday season. Sometimes called a Philippine lime, this sour fruit is ubiquitous in Filipino cuisine and often used as a condiment in recipes such as pancit. Try using these fruits to make a marmalade or freezing them to use as ice cubes in cocktails. In addition to being packed with vitamin C and antioxidants like potassium, limonene, and vitamin A, calamansi touts numerous health benefits. It can help fight inflammation, regulate sugar levels, and even reduce mucus! When you feel congested during the cold winter months, squeeze a glass of fresh calamondin juice. The citric acid helps break up the phlegm and mucus in your lungs and can help with pain and swelling in the throat.

Whether you're finding happiness in the sweet-tart flavor of a Meyer lemon, the ease of peeling the Owari Satsuma, or the health benefits of the Calamondin, each variety brings its own burst of sunshine to the winter season. Shop now and choose which winter citrus you'll add to your Yarden!