The Kumquat tree has glossy dark green foliage and tiny thorns along the branches. The tree can reach 8 to 15 feet high and can easily grow in warm places. This tree can endure cool weather, however, cannot survive below 20 degrees F. The tree bears yellow-orange Kumquat fruits that are sweet with a bit of sour taste. The unusual thing about Kumquats is you can eat the fruits whole including the skin.
Kumquat trees start to produce fruit in just 2 to 3 years after planting. The fruit is in season from November through April.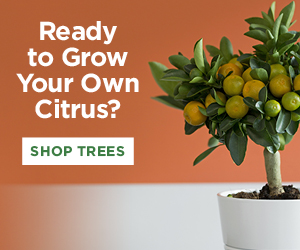 Taking Care of a Kumquat Tree
If you are planning on growing a Kumquat Tree, it is important that you know the best ways to take care of it. Here are a few tips you may follow to grow a healthy tree.
Like other citrus trees, you must keep the soil where the Kumquat tree is planted moist but not too wet or soggy. Water your plant regularly especially in the dry season.
Kumquat trees can't stand severely cold weather and frost. If there is a threat of freeze in your area use a blanket to cover your tree. If the tree is planted in a container move it inside the house.
If you are planning to plant the tree in a container make sure that the size of the pot or container you will use is big enough for roots to grow in to prevent the tree from getting root bound. For water drainage, drill some large holes at the bottom part of the container then cover the holes with a screen to keep the soil intact. Place the tree in an area where there is enough sunlight during the day for 6 to 8 hours.
Once your tree is established you can give it nitrogen-rich fertilizer suitable for a citrus tree for the first three months following the label instruction.
After you harvest all the citrus fruits, prune away the damaged or weak branches before the next blooms appear. Keep in mind though that this tree doesn't require regular pruning because of its natural shape.
Some citrus trees self-pollinate and one of them is kumquat, although cross-pollination can produce more fruits.
Varieties of Kumquat Trees
There are many types of Kumquat trees you can choose from depending on your needs and requirements.
Meiwa Kumquat – Meiwa is the favorite variety among some gardeners because it is sweeter than other cultivars. The fruits are typically large, rounded, and tastier than the other kumquat varieties. Meiwa Kumquat trees can grow 6 to 8 feet tall and 10 feet wide if left untrimmed.
Nagami Kumquat – is a semi-dwarf type of kumquat tree. Its fruit has an orange color and all the parts are edible including the seeds. Nagami Kumquat trees can grow up to 6 feet high.
Fukushu Kumquat – is a Japanese kumquat tree with sweet fruits that are a little bit bigger than other varieties and have thick skin, unlike other kumquats. The Fukushu Kumquat Tree can grow up to 6 to 10 feet tall with proper pruning.
There are also dwarf varieties of kumquat if you prefer small trees in your garden or inside your house. If you're planning to add this tree in your garden, you can buy standard and dwarf kumquat trees online.