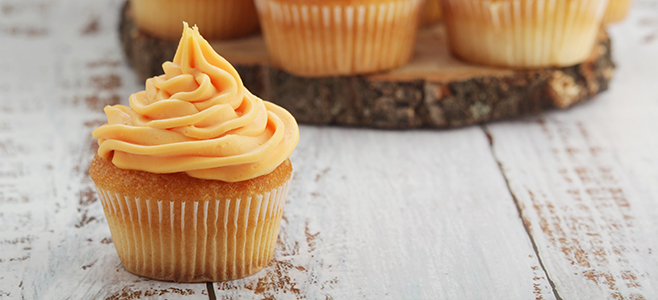 So moist, citrusy and delicious, it's hard to believe these cupcakes are low fat! Infused with bright orange flavor in every bite, these comforting cupcakes area refreshing dessert following weeknight dinners and special occasions alike.
Ingredients:
3 Tbsp. butter, softened
⅓ c. packed brown sugar
¼ c. sugar
1 tsp. grated orange zest
1 large egg, room temperature
1 large egg white, room temperature
2 Tbsp.+ 2½ tsp. orange juice, divided
1¼ c. cake flour
¾ tsp. baking powder
¼ tsp. baking soda
¼ tsp. salt
¼ tsp. ground ginger
⅔ c. buttermilk
½ c. confectioners' sugar
Directions:
In a large bowl, beat butter, brown sugar, sugar and orange zest. Beat in egg, egg white and 2 tablespoons orange juice. Combine flour, baking powder, baking soda, salt and ginger; gradually add to butter mixture alternately with buttermilk, beating well after each addition.
Coat 9 muffin cups with cooking spray or use paper liners; fill ¾ full of batter. Bake at 350°F for 18-20 minutes or until a toothpick inserted in the center comes out clean. Cool 5 minutes before removing from pan to a wire rack to cool completely.
In a small bowl, combine confectionary sugar and remaining orange juice. Frost cupcakes.