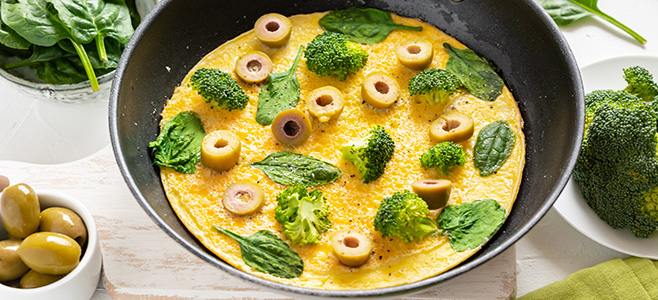 As autumn winds down and you've finished harvesting your Arbequina olive tree, you may find yourself wondering what to do with all those extra olives. Look no further: this seasonal, savory, no-flip omelet is hearty enough for any meal, not just breakfast! Pair it with some toasted Italian bread for an added texture.
Ingredients:
6 large eggs
2 ½ c. fresh broccoli florets
¼ c. 2% milk
½ tsp. salt
¼ tsp. pepper
⅓ c. grated Romano cheese
⅓ c. sliced and pitted Arbequina olives
1 Tbsp. olive oil
Shaved Romano cheese and minced fresh parsley for garnish
Directions:
Use an InstaPot or air fryer to steam your broccoli florets until crisp-tender. If you don't have one of these appliances, you can also steam in the microwave or the broiler of your stove.
While the broccoli steams, whisk together the eggs, milk, salt, and pepper in a large mixing bowl. Stir in the broccoli, grated Romano, and olives.
In a large cast-iron skillet, heat the olive oil on medium heat. Once the oil runs easily, pour in the egg mixture.
Leave on medium heat and cook uncovered for 4-6 minutes or until the eggs are almost set. While eggs are cooking, preheat your broiler.
Place the skillet in the broiler about 3-4 inches away from the heat and broil for an additional 2-4 minutes or until the eggs are completely set.
Let stand for 5 minutes. Sprinkle with shaved Romano and parsley, cut into wedges, and serve!