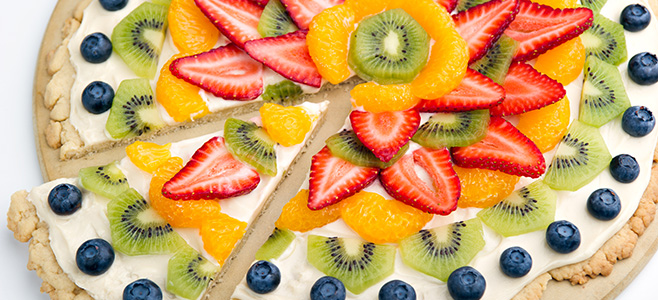 Who doesn't love pizza? If you're trying to get your kids to eat more fruit, this quick, easy-to-prepare treat is a perfect alternative to a sugar-laden cookie or other high-calorie treat. Sweet and satisfying, tortilla-topped fruit pizzas make a great after-school snack.
Ingredients:
4 medium-sized whole wheat tortilla shells
½ c. plain Greek yogurt
1 tsp. honey
½ tsp. vanilla extract
¾ Tbsp. orange juice
¼ c. strawberries
¼ c. kiwi
¼ c. mandarin oranges, canned in juice
¼ c. blackberries
¼ c. green grapes
Directions:
Cut tortillas into smaller circles using a cookie cutter, biscuit cutter, or drinking glass. Set aside.
In small mixing bowl, blend together yogurt, honey, vanilla and orange juice.
Slice strawberries; peel kiwi and slice; drain oranges and slice into smaller pieces; slice blackberries and grapes into quarters.
Spread yogurt mixture onto tortillas and top with fruit.