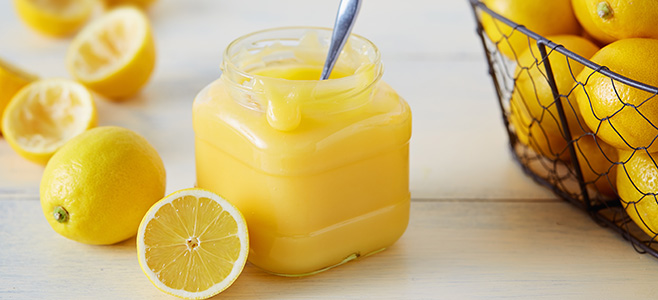 When it comes to crowd pleasing treats, Lemon Curd is one of the most versatile dessert ingredients imaginable. If you have ever wondered how to make homemade Lemon Curd, then this easy and rewarding recipe is sure to satisfy. This Fresh Lemon Curd Recipe only has six ingredients, can be made ahead of time, and packs a smooth, buttery, zesty lemon flavor.
Lemon Curd can be used to make Lemon Bars, Lemon-Filled Donuts, Lemon Tarts, and Lemon Scones. It is also a great dessert topping for Cheesecake, Ice Cream, Toasted Croissants, Biscuits, and more. This recipe even includes some useful tips for longterm storage and easy cooking. So gather the ingredients and make this fantastic Homemade Lemon Curd Recipe so you can start enjoying this classic ingredient today.
Ingredients
4 Large Egg Yolks
1 Tablespoon Lemon Zest
2/3 Cup Sugar
1/8 tsp Salt
1/3 Cup Fresh Lemon Juice (from 2 to 3 Lemons)
6 Tbs Unsalted Butter, softened
Instructions
Add two-inches of water to the bottom of a double boiler. The best double boiler is one with a ceramic ingredient bowl. If you do not have this ceramic bowl-type double boiler, simply use an oven-safe ceramic or glass bowl as the top container. Bring water to boil over high heat, then reduce to simmering over low heat.
Add egg yolks, sugar, lemon zest, lemon juice and salt to boiler bowl and whisk until fully blended. Whisk constantly as mixture cooks, for about 10-minutes, until the sauce thickens. If the curd is not thickenning, increase heat slightly.
Once the Curd is the thick consistency of cake batter, add butter in 4 or 5 pieces and whisk until incorporated. Remove from heat and immediately transfer the Lemon Curd into a glass jar or bowl. Cover with plastic wrap so that the wrap sits directly on the Curd surface, to prevent the Lemon Curd surface from drying.
Allow the Lemon Curd to cool at room temperature for one hour while covered in this way. Once cooled, remove the plastic wrap, cover with a tight fitting lid, and refrigerate for up to 10 days.
Tips
For thicker Lemon Curd, replace two of the egg yolks with one entire egg.
For long-term storage, Lemon Curd can be frozen for as long as 6-months in an airtight freezer container.
If using Salted Butter, do not add the 1/8 tsp Salt in the ingredients.