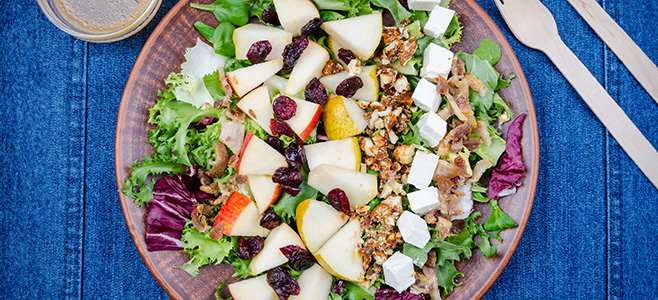 This easy-to-prepare salad offers an explosion of fall flavors in a variety of textures in one dish! The saltiness of the cheese and bacon sets off the sweetness of the fruit. A great addition to your holiday spread or turn it into a main course by adding a few slices of leftover Thanksgiving Day turkey.
Ingredients:
For the salad:
½ lbs. mixed greens
1 apple, sliced thin
1 pear, sliced thin
⅓ c. dried cranberries
⅓ c. feta cheese, crumbled
3 Tbsp. sliced almonds
4 slices bacon, cooked and chopped
For the dressing:
3 Tbsp. balsamic vinegar
1½ Tbsp. extra-virgin olive oil
1 Tbsp. Dijon mustard
1 Tbsp. shallot, minced
1 Tbsp. maple syrup
Salt and pepper, to taste
Directions:
Top greens with apple and pear slices, feta cheese, bacon, cranberries and almonds.
Whisk together dressing ingredients.
Serve salad with side of dressing to prevent greens from becoming soggy.