Find your growing zone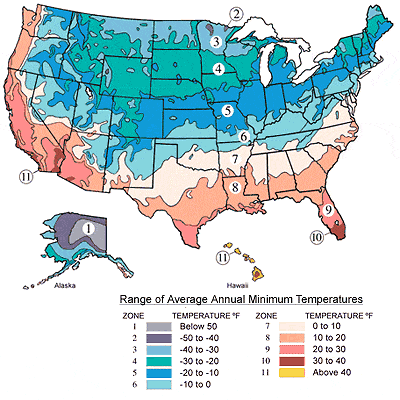 Citrus trees do best in temperatures between 55 and 90 degrees Fahrenheit. Ideal temperatures for the spring and summer range from 75 to 90 degrees. During fall and winter, the best temperature range for growing citrus is 60 to 70 degrees. Containerized citrus trees can be moved indoors during harsh cold weather. Planting in a spot protected from wind is the best defense for trees in the ground. Heaters can reduce humidity to dangerous levels when used in close proximity to any citrus tree, so they are best avoided.
If you are located in Growing Zones 8 to 11 then planting in the ground is an option but if you are located in zones 4 to 7 it is recommended that you plant your citrus trees in a pot so you are able to take them indoors during frigid weather. These are just recommendations if the temperature drops below freezing for extended periods of time you will need to protect citrus trees no matter what area you live in.
If you have questions about plant hardiness in your area, contact your local County Agricultural Extension Office.