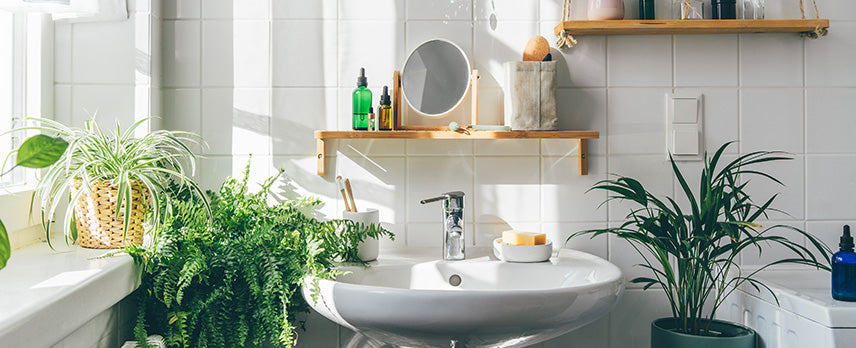 Just because you aren't winning any gardener of the year awards this year doesn't mean that you can't keep and enjoy plants. Indoor plants are huge in interior design right now. Not only do they look great, but they double as natural air purifiers. But, while they look good in any room of your home, the biggest trend right now is bathroom plants.
One of the coolest things about keeping your plants in the bathroom is that you can be a lazy or forgetful gardener and still get away with it and have healthy plants. Just make sure that you choose hearty plants for your bathroom, and with an easy water source right there, how can you go wrong?
Keep it Small
Your bathroom plant doesn't have to be a statement piece to make a difference. Cute or sleek planters that fit with your bathroom decor filled with small plants can make a huge impact on a smaller room like a bathroom. Try just sitting a small plant on the countertop or a shelf.
Bohemian Chic
From Bohemian chic to Shabby chic, a greenhouse-style bathroom with plants galore can be a lot of fun. Make sure to use hanging plants in combination with pots on shelves and the window sill to complete the look.
Display Shelves
When you use shelves to display your plants, there are almost no limits or restrictions on what you can do beyond the size and shape of the shelves. You can have big and bushy plants, or vines or ferns. You can do anything you want to with plants in this kind of space.
Solitary Plant
If you have a super small bathroom and you have no room at all, then this is the decorating option for you. This is also a great choice if you are just trying your first plant. Sit a single plant on your window sill, or hang a single plant near or in front of your window.
Statement Piece
Forget hiding a couple of plants in the corner of the counter—go big and dramatic. Get a large plant, like a tree with awesome foliage, and set it on your bathroom floor. There is no wrong place to put this type of plant because it will be the bathroom's focal point.
Glam it Up
Make your bathroom feel like the epitome of style by adding a cactus as a statement piece with a diverse grouping of window plants and decor to help style a pair of ferns on the counter. Get creative and let your style come out!
Home Spa
Create your own oasis in your bathroom by including plants that have an exotic feel and give you the impression of luxury with lots of lush foliage. Add a fern or two into your window to complete the look.
Splash of Color
A plant will liven up and brighten up any room, but this is especially true of a bathroom. You can incorporate the color of your plant with your existing color scheme or use it to add a fresh pop of color for drama.
Create Depth
Adding a plant, done correctly, can add both depth and space to a room. For example, placing a large foliage plant in the corner, a colorful plant in front of the mirror, or a viney plant in the window all have their own way of helping to add depth and space to your bathroom.
Decorate Your Tub
Many bathtubs have at least one edge wide enough to sport some plants. You can go with whatever option works in your bathroom, depending on the space and lighting you have available for your tub. Generally speaking, cactus plants are great for the corner of the bathtub.
Shower Caddy or Plant Shelves
If you want an option to add quite a few plants to your bathroom but are limited in space, try making your own shower plant caddy. You can also incorporate plant shelves in or in front of your bathroom window to better utilize your space.
Top Plants for the Bathroom
When choosing plants for your bathroom, make sure to check out Soil and Clay. You can easily get indoor plants delivered to your door. Here are some of the top plants to shop for if you are looking for some great bathroom plants.
The Pilea Peperomia or Chinese Money Plant needs bright light and soil that has good drainage. This small money plant is great for bathrooms because it is an air purifier and doesn't take a ton of work, only needing to be watered about once per week.
It is safe for both humans and pets and does okay in a room with moderate humidity. Its large bright green leaves make it a pretty focal point for most bathrooms.
The Zamaioculcas Zamiifolia, Zanzibar, or ZZ plant grows to be between 10 inches and three feet tall. It has spectacular foliage that will brighten up any room. It is even good with moderate moisture, making it nice for bathrooms.
The ZZ Plant can handle low light and even drought conditions, making it good for the forgetful gardener. Be careful, though, because this isn't a good plant to have with pets.
The Pothos plant comes in different varieties that include the Pothos – Jade, Golden Pothos plant, Pothos – Marble Queen, and the Silver Pothos – Scindapsus Pictus. These are all plants that are on the smaller side of the scale. They have beautiful glossy leaves and are hardy plants that are good for beginners.
Tips for Healthy Plants
Get to know your plants: It's great to be able to have indoor plants delivered to your door, but you still need to make sure you understand what you are getting and what your plant will need to be healthy.
Shop Soil too: It is important when you get your plants that you shop for soil too, and you can even order wholesale soil at the same time that you order your plants. Make sure you have the right soil for the plants in your home.
The right light and water: Make sure that they get the proper amount of water and light, and you should have good healthy plants in no time.
Houseplants are an excellent way to beautify a space and help breathe a bit of life into your home. While it can seem intimidating to start at first, there are plenty of hearty indoor varieties you can take care of that are great for beginners and require little maintenance.
Are you looking for some interesting selections to start with or add to your own living collection? Shop for indoor plants delivered to your door and soil for plants at Soil and Clay, and start growing healthy plants now!