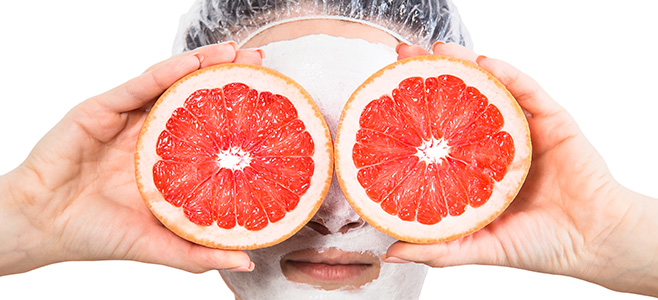 If you are fortunate enough to have a grapefruit tree during prime harvest season, you also can unlock clean, healthy, acne-free skin at home. Wondering how to unlock this natural secret to enhanced beauty and overall skin health? Wonder no more; here's how!
How to Use Grapefruit to Fight Acne
The best way to use grapefruit to fight acne is also the easiest one. All you have to do is add great-tasting ruby red grapefruit to your diet. Not only will you find that its valuable nutrients like Vitamin C, lycopene, and fiber help support your overall health and fight acne, but there are also other benefits. For example, eating grapefruit as part of a balanced diet can help to control weight, blood sugar, and cholesterol.
In addition to adding grapefruit to your diet, you can also use grapefruit in both over-the-counter and homemade beauty products.
Using Ruby Red Grapefruit for Skin Care
Struggling with acne can be very burdensome, both emotionally and physically. If you have been dealing with it for a while, you have probably tried almost everything out there to help get rid of your acne.
The sad truth is that many of the products today that claim they can get rid of your acne overnight are either money grabs or outright scams. Even worse, some of these so-called products that they are peddling can actually damage your skin, even permanently in some cases.
It doesn't take much to realize that your best option, in terms of both safety and effectiveness, is to make your own all-natural products at home.
Why Grapefruit is Good for Your Skin
Grapefruit juice can be used as a gentle cleanser for the delicate skin on your face and neck because it is a natural antibacterial agent. This means that it can even help heal skin from breakouts and even help to prevent them. It also has a lovely and refreshing smell that perks up your mood as well as your skin.
Grapefruit Skin Care Recipes
Grapefruit Daily Cleanser
This is a very simple cleanser to make, and once it is made, it can be stored in the refrigerator for three to four days so that you can continue to use it. All you need is your favorite all-natural cleanser and about a cup of grapefruit juice.
Blend a couple of drops into the grapefruit juice until you get a consistency that is close to frothy eggs. This is a cleanser that you can use daily without worrying about drying out your skin.
Grapefruit Daily Toner
To get rid of soap residue, reduce the appearance of acne scars and minimize the size of pores, use this grapefruit daily toner after you cleanse your face. This toner is made by adding tea tree oil and witch hazel to grapefruit juice. These ingredients are pretty easy to find at your local pharmacy or grocery store.
Mix about a cup of grapefruit juice and a cup of witch hazel and add in a few drops of the tea tree oil and you have the perfect toner for your daily skin routine.
Citrus Yogurt Mask
This mask will reduce redness and irritation from acne, reduce fine lines and sun damage, and reduce discoloration. For this simple mask, mix one half of a cup of juiced grapefruit and one half of a cup of plain organic yogurt. Apply the mixture in a thin layer on clean skin and rinse after about ten minutes. You can do this as needed, as often as every three or four days.
Grapefruit Facial Scrub
You can make grapefruit into a wonderfully rich facial scrub ha will get the job done without taking a toll on your skin. For this facial scrub, you will need one-half cup of juiced grapefruit, one cup of sugar, and three tablespoons of grapeseed oil. Mix the ingredients and use as you would any other face scrub.
Keep in mind that this one does not save well, so use all of the scrub you make in each sitting, or it will go to waste.
Grapefruit Clarifying Mask
If you want to give your skin back its healthy vibrant glow, this is the grapefruit mask for you! You need half a grapefruit and half a cup of cornmeal with one tablespoon of honey. Mix the ingredients together and apply to a clean and dry face. Let it sit for around ten minutes before washing it away with a soft cloth and warm water.
Where to Get a Ruby Red Grapefruit Tree
Since the best grapefruit for helping to control acne comes from the ruby red grapefruit tree, you may be wondering if it is a good idea to get one.
If you have the space, it's a wonderful idea to have a ruby red grapefruit tree at your home to harvest yourself. It will allow you to have plenty of fresh grapefruit to eat and use for skincare to finally get your acne in check. In fact, did you know that you can even mail order grapefruit directly to your door? The very best mail-order grapefruit trees come from Citrus.com, so check them out today!