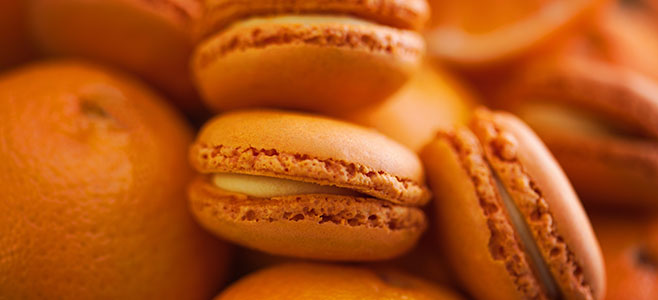 Sweet, light and luscious, these clementine macaroons taste as good as they look! Whether presented as a wonderful centerpiece at a spring holiday dinner party or a great gift when packed in an attractive box or basket, these macaroons are sure to be a hit.
Ingredients:
3 large eggs, separated
½ c. superfine sugar
⅔ c. confectionary sugar
½ tsp. orange food coloring
¼ c. almonds, ground
15 oz. can condensed milk
1 Tbsp. cornstarch
Juice and finely grated zest of 1 lemon and 2 clementines
Directions:
Preheat the oven to 340°F. Beat egg whites with an electric hand mixer until stiff peaks form. Add superfine sugar and food coloring; beat until glossy meringue forms.
Sift ground almonds and confectionary sugar into meringue; fold until the mixture is pourable but thick enough to pipe. Spoon into large piping bag. Pipe small circles about 1″ in diameter onto a baking sheet lined with parchment sheet. Let rest 15 minutes, then place in oven on center rack. Bake until slightly golden on top (about 10-12 minutes). Remove from oven and let cool; carefully remove from baking sheet.
For the filling, mix cornstarch with 2 tablespoons of citrus juice. Stir together condensed milk, cornstarch mixture, zest and egg yolks in a microwavable bowl; heat in microwave one minute at a time, whisking in between until thick (about six minutes). Allow to cool.
Pair macaroons with others of similar size, then use a layer of the filling to stick them together.