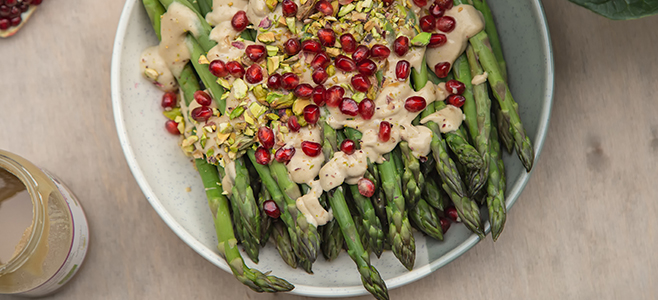 Pomegranate is wonderful when served with granola, ice cream, or oatmeal, but it's also great for adding pizzazz to savor dishes, too! This easy, nutritious recipe makes a wonderful side dish at a holiday meal or any meal. Spicy Za'atar and smoked paprika add tons of flavor to the subtle taste of the asparagus.
Ingredients:
2 Tbsp. oil
1 onion
4 garlic cloves
1″ knob of ginger
1 bunch asparagus, cleaned and trimmed
1 tsp. Za'atar
½ tsp. smoked paprika
2 Tbsp. pomegranate arils
Lemon wedges, for serving
Salt and pepper, to taste
Directions:
Rinse asparagus and snap off tough, bottom ends. Place tops in a bowl of cold water to remove remaining debris; rinse and allow to dry on paper towels.
Peel and dice together onion, ginger, and garlic.
Heat oil in pan over medium heat. Add onion, ginger, and garlic and sauté, stirring often, for 8-10 minutes. Add asparagus; sprinkle with za'atar and smoked paprika and stir well. Sauté 5-6 minutes.
While asparagus is sautéing, cut open the pomegranate and release the arils. Set aside.
When asparagus is done, remove pan from heat. Squeeze lemon over the asparagus, season with salt and pepper and mix well.
Add onions, ginger, garlic, and spices along with asparagus mixture into a serving dish and sprinkle pomegranate arils over top. Serve.