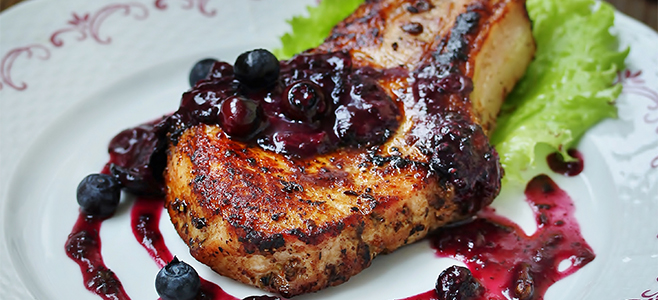 If you're looking for a why to dress up pork tenderloin and have some leftover summer berries in the freezer that you haven't used for pancakes, this is the recipe for you! The spicy, fruity salsa adds zing to the savory, tender meat and adds brilliant color to your winter table. Easy to prepare with a lot of "wow" factor!
Ingredients:
For the pork:
2 pork tenderloins, cut into ¾" slices
1 tsp. salt
½ tsp. pepper
2 Tbsp. olive oil, divided
½ c. white wine
2 shallots, thinly sliced
½ c. chicken stock
For the salsa:
1¼ c. fresh or frozen blackberries, thawed and drained
1¼ c. fresh or frozen raspberries, thawed and drained
1 c. fresh or frozen blueberries, thawed
1 medium sweet red pepper, finely chopped
1 jalapeno pepper, seeded and minced
½ medium red onion, finely chopped
¼ c. lime juice
3 Tbsp. minced fresh cilantro
¼ tsp. salt
Directions:
Add blackberries, raspberries, blueberries, red pepper and jalapeno pepper to a large bowl; toss lightly to combine. Set aside 1 cup for sauce. Gently stir onion, lime juice, cilantro and salt into remaining mixture; let stand 30 minutes.
Sprinkle pork with salt and pepper. In a large skillet, heat 1 tablespoon oil over medium-high heat. Add half the pork and cook until a thermometer inserted in pork reads 145°F (about 2-4 minutes each side). Remove from pan; repeat with remaining pork and oil.
Add wine, shallots, and reserved berry mixture to pan, stirring to loosen browned bits. Bring to a boil; cook until liquid is reduced to 1 tablespoon (about 4-6 minutes). Stir in chicken stock and cook until shallots are tender (about 5 minutes longer), stirring occasionally. Return pork to pan and heat through. Serve with salsa.