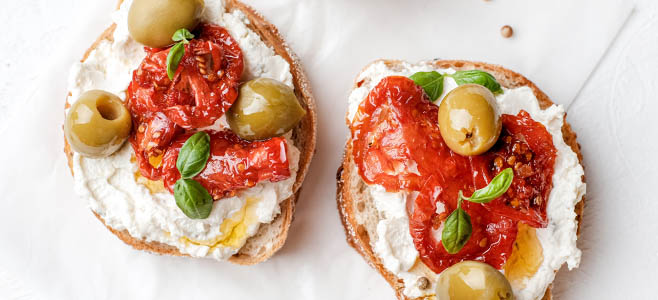 Looking for a tasty, simple, yet impressive-looking appetizer to serve your guests? This colorful "salad" is sure to make an impression! Use black or green olives or a combination of both for greater visual appeal and choose medium-sized tomatoes that are fully ripe yet firm. The fresh ingredients, toasty bread and colorful appearance make this savory starter a winner every time.
Ingredients:
½ c. black or green olives, pitted and chopped fine
3 tomatoes, chopped fine
1 T. red onion, chopped fine
1 clove garlic, minced
1 T. balsamic vinegar
1 T. extra virgin olive oil
⅓ c. fresh basil leaves
¼ tsp. sea salt
6 slices of artisan bread (ciabatta, baguette, etc.), toasted
Ricotta Cheese
Directions:
Combine olives, tomatoes, onion and garlic in a bowl.
Add balsamic vinegar and olive oil and stir.
Shred basil leaves and add to bowl with sea salt; stir to combine.
Allow to set at room temperature for 15 minutes so flavors blend.
Spread the cheese on toasted bread slices and add the rest of the ingredients on top.
Serve immediately.