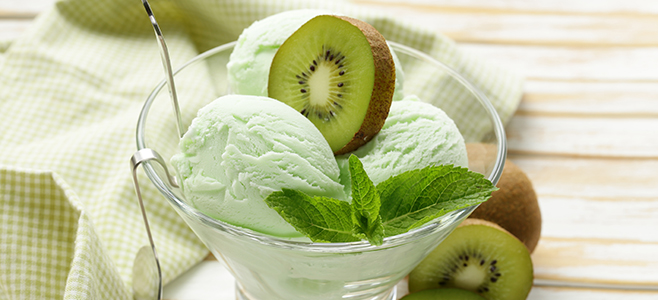 At less than 150 calories, this lightly tart, sweet and creamy treat looks so elegant, but is super-easy to make. Plus, with all-natural ingredients, it's a treat you can feel good about serving your family! Tip: make sure the kiwi is very ripe so that your sorbet doesn't come out sour. This is a great way to use up extra kiwi!
Ingredients:
8 kiwis, peeled
4 Tbsp. honey
1 Tbsp. lemon juice
4 Tbsp. coconut milk
Directions:
Peel and slice kiwis; lay flat in a freezer-safe tray and freeze 1 hour.
Place frozen sliced kiwi in a blender or food processor; add remaining ingredients. Blend until smooth and creamy.
Serve immediately or pour into a shallow container and freeze for later.