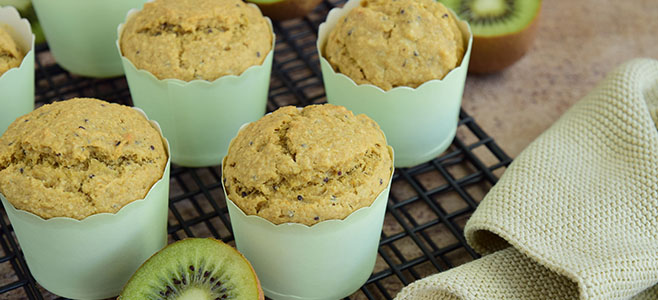 Whether you are looking for a sweet but nutritious breakfast or just a good snack to grab on the go, kiwi muffins are the best way to go.
Kiwi muffins can be enjoyed just as they are, or you can have them with cream cheese, ricotta, or butter. You can even make them into a delicious dessert by adding chopped nuts, ice cream, or caramel sauce.
The best thing about kiwi muffins is that you can make them at home in under an hour! If you have a citrus fruit tree at home, you can substitute most kinds of citrus in this recipe, and it still works great. You could even use your muffins to give a fabulous citrus gift!
Muffins Throughout History
Muffins are a cake-like pastry that is individually sized and often looks a bit like a cupcake—in fact; cupcake cups are often employed to make muffins, and vice-versa. Muffins can be sweet or savory and can be a more cake-like pastry or a more flat bread-like, partially raised pastry.
The flat-bread variety is better known as an English muffin, and perhaps you may have had some experience with these and added butter or jam to them in the mornings if you live in North America.
The more cake-like version is usually sweet (although savory is sometimes an option) and is often found with added fruit. The fruit added can be almost anything from bananas to blueberries to citrus fruit.
The first time the word "muffin" was used in print was in the early 1700s. The exact origin is murky at best, and some people speculate the word could have come from Greek or French. However, one good school of thought says that the word likely originated from the German word "muffen" which means a "small cake."
Regardless of where they came from, who called them muffins first, or even if you prefer them with berries or citrus fruit, one thing that we do know is that they have exploded with popularity over the years.
In the 1980s, Muffin Mania was one of the top-selling cookbooks in North America. A decade later the television show Seinfeld dedicated a whole episode to the love of muffins. Since they are so much fun, taste good, and are easy to transport, handle and eat, people just fall in love with them!
Why We Love Kiwi Muffins
Some of our fondest memories go back to the good old days of childhood. One of the things that I remember best is the smell of sweet muffins emerging from the oven on a crisp cool morning. Muffins are the stuff that memories are made of. From the taste and the smells to the experience of baking in the kitchen with family, there is no part of making and eating muffins that doesn't bring joy to a home.
Our family had never tried kiwi muffins before, though we all loved kiwis. So going out on a limb (or so she thought) mom tried the kiwis in place of other citrus fruit in our favorite muffin recipe. The whole family was hooked. Now kiwi muffins are our go-to recipe for breakfasts at home and even to take on the go sometimes!

Best Kiwi Muffins Recipe
You want your muffins to come out with just a little crunch on the top and a light and fluffy inside. These muffins do a good job of being fairly healthy but still maintaining just enough fat and sweet to taste really great!
Tips for Baking Kiwi Muffins
If you don't have all-purpose flour, you can use a substitute. Wheat flour works just fine. You can also use self-rising flour; just omit the salt and baking powder.
Omit almond and vanilla extract in favor of coconut extract, and add shredded coconut for a more tropical flavor profile for your muffins.
Add chocolate chips to the muffin and make them a dessert.
Instead of using a cup of sliced kiwi, use 1/2 cup sliced strawberries and 1/2 cup chopped kiwi for a different taste.
Mix until the ingredients are combined, but try not to overmix.
Kiwi Muffin Recipe
Prep: 20 Minutes
Bake: 20 Minutes
Utensils Needed:
Measuring Cups & Spoons
Mixing Bowl
Spatula
Muffin Tin
Ingredient List:
2 Cups All-Purpose Flour
1 ½ C Kiwi
1/2 C Rolled Oats
1/3 C White Sugar
1/3 C Brown Sugar
2 tsp Baking Soda
1/2 tsp Cinnamon
1/2 tsp Nutmeg
1/2 tsp Salt
1 Cup Yogurt
1/2 Cup Vegetable Oil
2 Eggs
1 1/2 tsp Vanilla extract
1/2 tsp Almond Extract
Instructions
Preheat the oven to 375 F.
Grease a 12-cup muffin tin.
Whisk dry ingredients together. This includes the flour, rolled oats, sugars, baking soda, spices, and salt.
Whisk all of the wet ingredients together. This includes yogurt, oil, eggs, and extracts. Do this in a separate bowl until smooth.
Combine the mixtures by stirring the wet mixture into dry ingredients until combined. When combined, then fold in 1 cup of chopped kiwi.
Use a slice of kiwi fruit to top each muffin and bake for 20-25 minutes.
Let the finished muffins cool for 15 minutes before you serve them.