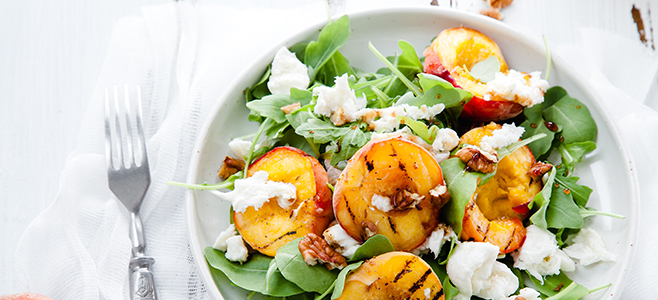 People have loved peaches for thousands of years. They are a sweet and delightful fruit. Furthermore, they make perfect homemade desserts and snacks because they are not one of the traditional in-store flavors of candy and treats (vanilla, strawberry, chocolate).
Fresh peaches are the perfect all-natural treat. The best thing about them is their versatility. The fruit of a peach tree is great on its own or in a recipe.
Let's talk a little bit about peaches and the different varieties of them, using fresh versus canned or frozen peaches, and the best peach dessert recipe you will find anywhere.
Peaches: An All-Time Favorite
As far as we know, peaches first appeared in China. However, people have been growing peaches around the world for more than 3,000 years. Even the Romans enjoyed peaches and traded them as a commodity.
The French and Spanish explorers are responsible for bringing the versatile fruit to the Americas. As a result, peaches are grown all over the world today. Some lucky people even grow peaches at home!
Varieties of Peaches
Peaches are categorized by their seed, which is called a stone and sits at the center of the fruit. The terms cling or free, or variations of them, describe the fruit's relationship with the stone. For example, peaches may be described as clingstone, freestone, and semi-freestone.
Peaches are also categorized by their color. Most peaches are either yellow or white. Yellow peaches are usually found in western countries, while white peaches are more commonly found in the eastern hemisphere.
It's also helpful to remember that nectarines are peaches, too. What makes a nectarine a nectarine is that it does not have fuzzy skin like a peach. Instead, they have smooth skin.
Throughout the world, there are thousands of varieties of peaches. They have been cultivated for their flavor and sweetness for all of recorded history. So, what is the best way to enjoy peaches?
Fresh Peaches Vs. Frozen or Canned Peaches
There is really nothing like a fresh peach. You can tell a distinct change in the texture when they are canned or frozen, especially in a large factory setting in mega batches.
One of the most fun things that you can do is can or freeze your own peaches at home. The quality is significantly better, and you know exactly what is (and isn't) being frozen or canned along with your peaches. In addition, this can allow you to avoid many of the added sugars, salts, preservatives, artificial flavors, and other chemicals added to processed foods.
When it comes to cooking or baking, using fresh peaches is important because the fruit holds up and maintains its flavor. Conversely, canned and frozen peaches can sometimes leave you with bland or soggy results.
Cooking with Peaches
Peaches are great in salads, showcased in side dishes, alongside meats and entrees, and especially with dessert. They taste great and are a good source of Vitamins A, B, and C. One of their best features is that they are only about 37 calories apiece.
When you make a dish for your family with peaches, you can feel good about what you are feeding them, and they will love it. Peaches are very versatile in cooking. They can be used simply in common meals or dressed up for more formal affairs.
Recipes for Peaches
Two of the most famous culinary accomplishments of the peach are the Bellini and Peach Melba. The Bellini is a famous drink that includes pureed peaches, while Peach Melba is a dessert with peaches and ice cream. You just can't go wrong with peaches and ice cream, can you?
Another place you will find peaches is in salads. Check out some of these amazing ideas:
Peach, Feta, and Pecan Salad
Peach Spinach Salad with Avocado
Arugula Salad With Peaches and Goat Cheese
Peach Hazelnut Salad
Ginger Chicken and Peach Salad
Feta and Peach Couscous
Peaches are wonderful in marinades and sauces as well. You will even find them in some fresh salsas. Of course, there are far too many peach desserts to list here. Let's just say that any dessert is better if it is peach flavored or has peaches on the side.
Tips for Cooking with Peaches
Here are some quick tips and tricks you will want to know when working with peaches in your recipes.
Choose Fresh Fruit
To have the best outcome in your finished dish, you will want to use fresh peaches. They are ripe when you can press just slightly into the fruit near the stem. Another cool thing about peaches is even when they are overripe, you can still use them in baked dishes. That means you seldom have any waste with peaches.
To Prepare Peaches
They can simply be halved and have the stone or pit removed. Many people skin peaches. This can be done with a paring knife or with the boil and ice bath method.
The Best Grilled Peach Salad Recipe
Assembling this salad is simple. However, what will make this salad really great is the quality and freshness of the ingredients. Choose ripe but firm peaches, vibrant blueberries, and fresh-smelling arugula. This salad is one that keeps easy, so it is good to make ahead. It's sure to be a hit at your home or for a party.
Grilled Peach Salad Recipe
Ingredients
The Base:
Arugula (baby spinach can be substituted)
The Fruit:
6 ripe peaches
1 C pomegranate seeds
1 C blueberries
The Garnishments:
½ C crumbled feta
2 TBSP roasted pinenuts
1 TSP oregano
The Vinegarette:
3 TBSP extra virgin olive oil
1 TBSP balsamic vinegar
1 TBSP honey
Dash of salt
To Make the Vinaigrette
In a small bowl add extra virgin olive oil and balsamic vinegar and stir together. Then add in the honey and salt. Set aside to top salad when finished.
To Make the Salad
Wash all of the fruit. Remove the pit from the peach and cut it into wedges. Fry the wedges on each side for two to three minutes. Build a bed of arugula as the base of the salad. Next, add the pomegranate seeds and blueberries. Then add the grilled peaches. Top with pinenuts, feta and oregano. Add vinaigrette as a final touch.