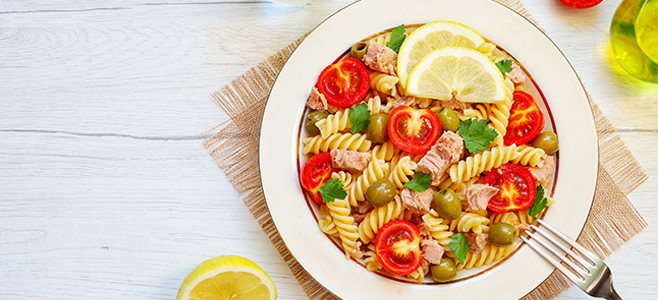 Sautéed green olives and garlic in butter create an easy, flavorful pasta sauce that's so easy to make, yet so impressive. Add a splash of lemon juice for balance and top each portion with freshly ground pepper and Parmesan shavings for a delicious, dressy dinner that's as much a treat for guests as it is for the family!
Ingredients:
1 lb. long pasta (such as spaghetti or linguine)
2 Tbsp. unsalted butter
1 Tbsp. olive oil
1½ c. mild green olives, pitted and coarsely chopped
4 cloves garlic, minced (Optional: add Society Garlic to taste)
Juice of 1 medium lemon
¼ c. fresh parsley leaves, coarsely chopped
Freshly ground black pepper
Kosher salt
Shaved Parmesan cheese, for serving (optional)
Directions:
Bring a large pot of salted water to a boil. Add pasta and cook 1 minute less than al dente (about 8 minutes). Reserve 1 cup of pasta water, then drain.
Meanwhile, heat butter and olive oil in a large skillet over medium heat. Add olives and garlic and cook until softened and fragrant (3-4 minutes). Remove from heat and stir in lemon juice.
Return skillet to medium heat and add cooked pasta and reserved pasta water. Simmer, tossing and stirring pasta, until pasta is al dente and sauce thickens and coats pasta (1-2 minutes).
Add parsley and a few generous grinds of black pepper; toss to combine. Taste and season with more pepper and salt as needed.
Divide among shallow bowls, top with shaved cheese if desired, and serve.