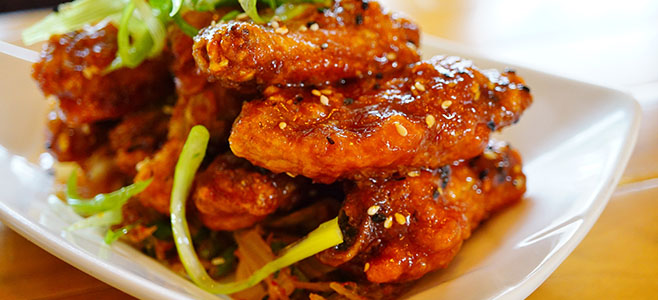 Perfect for game day, backyard barbecues or holiday parties, these chicken wings are just what chicken wings should be: crispy, sweet, and salty. Better still, they're a fabulous alternative to traditional Buffalo wings, with a spicy Blood Orange sauce that will have you licking your fingers so as to be sure you won't miss a single drop!
Ingredients:
3 lbs. split chicken wings
1 c. Blood Orange Juice, fresh-squeezed
½ c. orange marmalade
1 Tbsp. light brown sugar
1 tsp. freshly grated ginger
1 garlic clove, grated or pressed
1 Tbsp. soy sauce
2 tsps. crushed red pepper flakes
¼ c. hot sauce (or more to taste)
2 tsps. toasted sesame oil
1 tsp. cornstarch, dissolved in a splash of cold water
Toasted sesame seeds, for garnish
Scallions, for garnish
Directions:
Add 1″ of water in bottom of 6-quart saucepan with steamer basket; heat over high heat until water comes to a boil. Add wings to steamer basket, cover, reduce heat to medium and steam ten minutes. Remove wings from basket and pat dry. Lay wings out on a cooling rack set in a half sheet pan lined with paper towels and place in the refrigerator to dry (about 1 hour).
Preheat oven to 425° Remove paper towels from pan and replace with parchment paper. Roast on middle rack of oven, about 20 minutes. Turn wings and cook until meat is cooked through and skin is golden brown (about 20-30 minutes).
While the chicken is roasting, heat orange juice in a small saucepan over medium heat. Bring to a boil, then reduce to a simmer; cook until juice has reduced slightly (about ten minutes). Whisk in marmalade, brown sugar, ginger, garlic, soy sauce, red pepper flakes, and hot sauce. Simmer another 10 minutes.
Whisk dissolved cornstarch into sauce and cook until thickened and glossy (about three more minutes). Remove from heat and then stir in toasted sesame oil.
Toss the wings in the glaze as soon as they come out of the oven (I found it easiest to do this in a large bowl). Garnish with sesame seeds and chopped scallions.