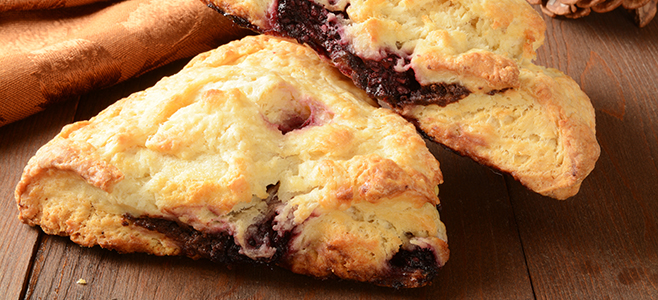 Make sure you save some blackberries for this recipe because it's easy, fast and delicious! Unlike store-bought turnovers, these homemade treats aren't so sweet, allowing the incredible blackberry flavor to shine through. A hit with all ages, these easy-to-make and eat turnovers are perfect for a special breakfast, brunch, dessert, tea or anytime!
Ingredients:
2 c. fresh blackberries
¼ c. sugar
2 Tbsp. lemon juice
1 Tbsp. cornstarch
1 egg yolk
1 Tbsp. heavy cream
½ c. powdered sugar
1 Tbsp. milk
1 sheet frozen puff pastry, thawed
Directions:
Preheat oven to 400˚F and line a baking sheet with parchment paper.
Add blackberries, sugar and lemon juice to medium saucepan and simmer over low heat until blackberries begin to soften and release juices (2-4 minutes). Add cornstarch and continue simmering until sauce has thickened while stirring gently (1-2 minutes). Set aside to cool.
Cut sheet of puff pastry into six equal pieces. Roll out pieces into shape of square. Fill half of each square with filling, leaving an inch of space around edges. Fold opposite corner over to form a triangle and crimp edges together using tines of a fork. Move to prepared baking sheet.
Add egg yolk and heavy cream into small bowl; whisk thoroughly. Brush each turnover lightly with egg wash. Bake turnovers until golden (about 12-15 minutes).
Place powdered sugar and milk in small bowl; whisk until smooth. Drizzle glaze over turnovers while still warm and serve.