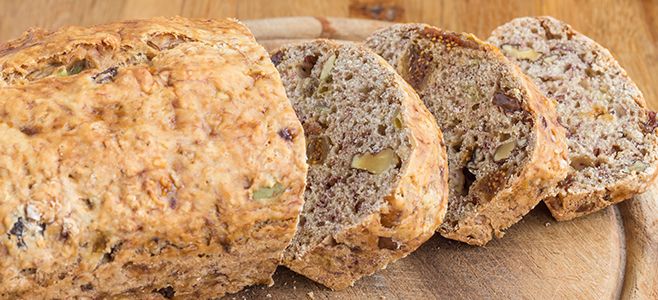 What could be better than warm, fresh banana bread? Warm, fresh, banana fig bread, of course! Crunchy walnuts add body and protein to this fruity vegan treat that's sure to become your new favorite breakfast on the go. Make more than one loaf and freeze the other for up to three months!
Ingredients:
4 ripe bananas
½ c. unflavored almond milk (can substitute rice, soy, cashew milk, etc.)
4 tsp. apple cider vinegar
4 tsp. pure vanilla extract
2 c. whole wheat flour
¼ c. sugar
1 Tbsp. baking powder
⅛ tsp. sea salt
½ c. dried figs, chopped
¼ cup walnuts, chopped
Directions:
Preheat oven to 350°F. Line a 9″×5″ loaf pan with parchment paper.
In a medium bowl, mash bananas with a fork. Stir in milk, vinegar, and vanilla.
In a large bowl, stir together flour, sugar, baking powder, and salt. Add banana mixture. Stir just until just moistened (batter should be lumpy). Fold in figs and walnuts.
Pour batter into prepared loaf pan. Bake until a toothpick inserted in the center comes out clean (about one hour). Cool in pan on a wire rack 10 minutes. Remove from pan; cool completely on rack.