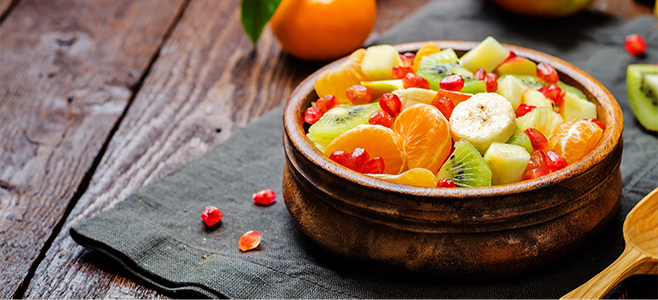 Perfect as a side dish for Thanksgiving, Christmas, or New Year's, this healthy, gluten-free salad showcases winter's most popular fruits in a refreshing combination that will appeal to the whole family.
Ingredients:
For the salad:
2 red apples, cored and diced
2 pears, cored and diced
4 clementine oranges, peeled and separated into segments
3 kiwi fruit, peeled and sliced into thin rounds and then silce rounds into quarters
½ c. dried cranberries
1 c. pomegranate seeds
For the dressing:
2 Tbsp. maple syrup
1 Tbsp. lime juice
Directions:
Combine all salad ingredients in a large bowl.
In a separate small bowl, whisk together dressing ingredients.
Pour dressing over salad and toss gently to coat.
Serve immediately.