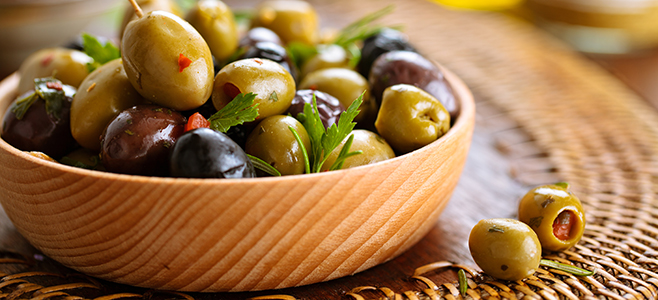 Whether you are hosting a dinner party, a small gathering of friends, or just treating yourself, these Warm Spiced Olives add a touch of culinary elegance to any table. This savory appetizer combines warmed oil with rich spices to elevate mixed olives to a new level. The natural ingredients and healthful olive oil create not only a palate-pleasing snack, but one that is nutritious as well.
This Warm Spiced Olive Recipe is perfect for a stand-alone starter before dinner. It also makes a sophisticated addition to any cheese tray, bread basket, or full-blown charcuterie board. Gather the simple ingredients, prepare these Warm Spiced Olives, and save this special appetizer recipe in your go-to file for fast finger foods.
Ingredients
1 ½ pound of mixed, pitted Olives
1 Cup Olive Oil
1 ½ tsp fennel seeds
6 to 8 thin strips of Fresh Lemon Zest (from 1 Lemon)
4 Dry Bay Leaves
1 Tbs Crushed Black Pepper
Instructions
In a large skillet, toast fennel seeds over medium heat for about 3-minutes, until slightly browned. Add lemon zest, bay leaves, olive oil, and pepper. Heat for 1-minute, stirring gently. Add olives and cook for about 3-minutes while stirring the olives slowly with a large spatula.
Transfer all contents into a serving bowl and serve warm.
Tips
Make ahead of time, refrigerate for up to a week, and warm in skillet over medium heat before serving.
Serve with toasted French bread and goat cheese for a rich, complete appetizer.
Use Warm Spiced Olives to top green salads paired with your favorite dressing.