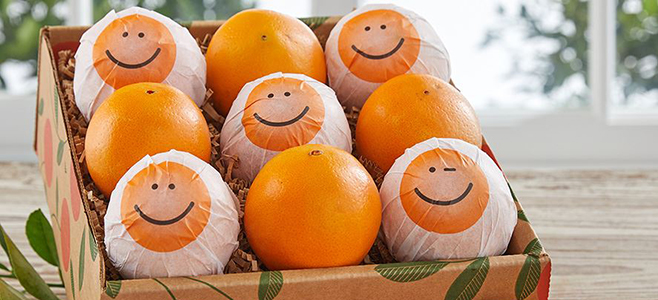 There are a lot of choices when it comes to buying citrus fruit and citrus fruit gifts. But not all citrus fruit companies are created equal. Ordering fresh oranges, grapefruit, and specialty fruits directly from the grove is a great way to get the best quality fruit. Just make sure that you are ordering from one of the best citrus companies so that you can be sure you will get great fruit, great service, and a great price. The companies listed here are the best citrus fruit companies for fruit baskets, fruit assortments, fruit towers and other fruit gifts. You can also order fruit assortments for your family or for holiday decorations and be sure that you are getting great quality fruit at a great price.
Hale Groves
When it comes to great tasting Florida citrus it doesn't get any better than fruit from Hale Groves!
This small, independently owned grove has been shipping out some of the best Florida citrus fruit for 75 years. Located in Florida's famous, Indian River fruit district (Indian River citrus fruit is by far the best-tasting!), Hale Groves started as a roadside fruit stand in 1947. Hale Groves has grown a lot over the years, but when it comes to picking fine fruit, sorting it for size and quality, and packing it for perfect arrival, the company's values have remained the same. Hale Groves' reputation for freshness comes from the fact that they don't start picking their customers' fruit until their order comes in. That means every navel orange, tangerines fruit and grapefruit has never seen cold storage.
You can find a huge selection of oranges, grapefruit, tangerines and even specialty fruit like Honeybells and Clementines at Hale Groves. Just be sure that you order early. A lot of the most popular holiday gifts sell out quickly each year. Hale Grove also offers a lot of budget friendly citrus gift choices.
Pittman & Davis
In addition to the Ruby Red Grapefruit that first made them famous over 90 years ago, Pittman & Davis offers an incredible assortment of gourmet gifts, such as King Comice pears, smoked meats, cheeses, pastries, candies and many other specialty-gift items.
Pittman & Davis is meticulous when it comes to fruit, raising them to perfection and taking the extra step of allowing them to ripen fully on the tree. This results in extraordinary, sugar-sweet fruit like you won't find in any grocery store.
Grown in the Indian River district in Florida and the Rio Grande Valley in Texas, Pittman & Davis sweet grapefruit is a holiday tradition for many of their customers.
Along with Ruby Red Grapefruit, Pittman & Davis offers Honeybell citrus fruit gifts and other fruit baskets that contain fresh Florida citrus, as well as Pittman & Davis pears, apples, and other treats. You can order these treats easily online, but Honeybell gifts often sell out months ahead of time so if you want Honeybell gifts you need to order early.
What's more, each of the Pittman & Davis gift food selections are meticulously prepared to assure the finest quality possible. The smoked meats are all the premium grade selections that are slowly and naturally smoked the old time-honored way. The premium baked goods and pastries are personally baked in small batches and shipped bakery fresh.