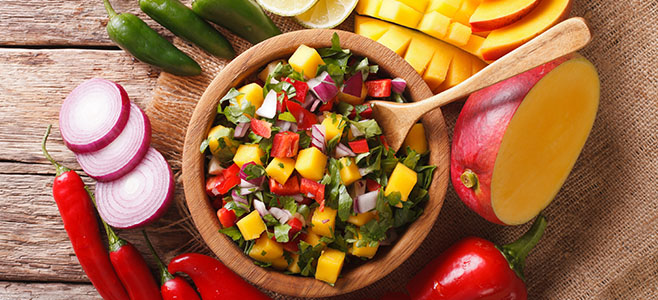 Some flavors just go together naturally, like sweet tropical mango and tangy, citrusy lime. This fresh chopped salad blends crisp veggies, herbs, and a sweet homemade dressing that ties it all together. This salad is colorful, refreshing, and flavorful. As such, it makes a great side dish for summer cookouts or fun gatherings at any time of year when fresh mangoes are available.
Gather these vegetarian ingredients and toss together this nutritious, tropical Mango Lime Salad that is as pleasing to the eye as it is to the tastebuds. Once you try it you will return to this recipe again and again for its ability to please a crowd. Serve Mango Lime Salad with grilled fish, barbecued chicken, tacos, or any main dish that needs a tasty sidekick.
Ingredients
2 ripe Mangoes, peeled and chopped (get your very own mango tree! click here >)
1 Red Bell Pepper, chopped
1 Cucumber, peeled, seeded, and chopped
1 Red Onion, peeled and chopped
1 or 2 sprigs of Fresh Mint Leaves, chopped
3 or 4 stems of Fresh Cilantro, chopped
¼ Cup Fresh Lime Juice
2 Tbs Honey
Salt and Pepper
Instructions
Prepare dressing first. In a small, microwave-safe mixing bowl add Lime Juice and heat in microwave for 30 seconds to warm. Do not boil. Add honey to warmed lime juice and stir until fully dissolved. Cover the dressing and refrigerate while you chop the ingredients for the salad.
Peel mango, cut away from seed, and chop into ½ inch pieces. Add chopped mango to a large salad bowl. Peel and seed the cucumber. Slice and remove seeds from the red bell pepper. Peel and cut the onion in half. Chop the cucumber, red bell pepper, and onion into ½ inch chunks, so that all of the ingredients are cut to a similar size, and add to bowl. Chop the mint and Cilantro and add to bowl and gently toss to combine ingredients.
Drizzle with cooled dressing and toss lightly to coat. Add a sprinkle of salt and pepper, toss again, and serve.
Tips
Add to a rice bowl with your favorite protein for a full meal.
Use as a topping for fish tacos.
Add ½ tsp of crushed red pepper flakes for a bit of heat.