Summer and winter are the typical seasons for oranges and you can get different varieties during these times of the year. But what if you also want oranges in the fall? Good news, you can still have tasty oranges if you grow Satsuma trees.
Besides its nature to bear fruits in the fall, a Satsuma tree is a wonderful tree to have because of its pretty foliage, high cold tolerance, fresh-scented blossoms, and sweet fruits that are easy to peel with few seeds. Standard and dwarf Mandarin Satsuma trees are self-fruitful and can produce consistently large crop over a long period of time, plus the fruits ripen before any problem brought on by freeze occurs.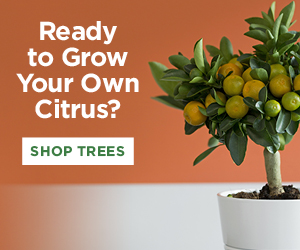 Satsuma Tangerine Tree
If you are checking online for Satsuma Orange trees for sale but are worried that the Satsuma Orange trees you will pick out might not be suited for your home or backyard because of its size, it is best to knowmore about the variety you will be buying and the Satsuma Mandarin tree size you have to deal with.
Owari Satsuma tree – the Owari Satsuma Mandarin tree is the most common and popular Satsuma Mandarin tree grown in the US. A standard Satsuma Owari tree can grow as tall as 12 feet, while an Owari Satsuma Mandarin dwarf grows to a smaller shrub-like plant that tops about 6 feet tall. The Owari Satsuma Orange tree is moderately vigorous, slowly growing, has a spreading growth habit, and bears glossy green leaves. This cultivar produces sweet and tasty firm fruits that come into season from October to November. Owari Satsuma tree for sale is available at citrus nurseries.
Brown Select Satsuma – another great option is the Brown Select Satsuma cultivar that is just a tad larger than Owari Satsuma tree. This type of Satsuma tree is less droopy than other Satsuma cultivars, has a dense growth habit, and produces easy-to-peel fruits with acidic-sweet taste. Brown Select Satsuma fruits are in season from October to November. You can find Brown Select Satsuma trees for sale in reputable citrus nurseries; Brown Select is available in standard and dwarf Satsuma sizes.
Silverhill Satsuma – this variety is a seedling selection of an Owari Satsuma cultivar from a cross made by the USDA in Florida in 1908. It has a vigorous and upright growth habit, is more cold-hardy than the regular Owari Satsuma, and can withstand temperatures as low as 15°C. The standard Silverhill Satsuma tree grows to about 15 feet tall, while the dwarf Satsuma Mandarin counterpart grows to about 6-8 feet. This tree produces supremely sweet fruits that are low in acid which are in season from October to November.You can find Silverhill Satsuma tree for sale along with Silverhill dwarf Satsuma Mandarin tree for sale at different citrus nurseries or farms.
A word of caution, before buying a Satsuma Mandarin trees from a citrus nursery make sure to read the rating and reviews of the seller to know the quality of the product they sell and the level of customer support they provide.