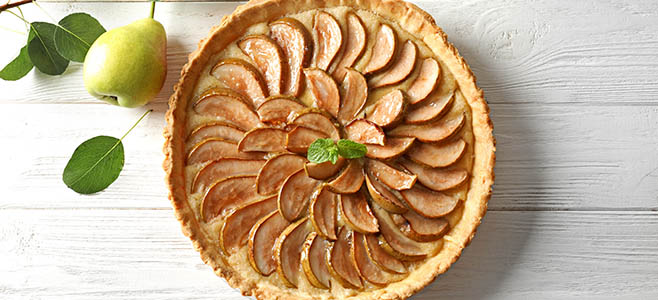 Fall is coming, which means it's almost time to harvest fresh pears from your Yarden tree! Got more than you can use? There's no better, easier, or yummier way to use up excess pears than this simple tart recipe! The sweet, buttery topping sinks into the cooked pears for a delectable sauce that makes this tart just as tasty as apple pie. Plus, it's pretty enough to serve guests, too – just garnish it with fresh whipped cream or a scoop of vanilla ice cream before serving for an extra-special treat.
Ingredients:
For the filling:
3 large pears, peeled and sliced
2 Tbsp. butter
2 Tbsp. all-purpose flour
¾ c. sugar
For the crust:
1½ c. all-purpose flour
¼ tsp. salt
2 Tbsp. sugar
½ c. unsalted butter
1 egg yolk
2 Tbsp. cold water
Directions:
For the crust:
Combine dry ingredients. Cut in butter, then mix in egg yolk and water to form a stiff dough ball.
Using a rolling pin, roll dough out on a lightly floured surface to form a 9″ disk. Place disk in a tart pan and press dough evenly up sides of pan. Place in freezer to chill.
For the filling:
Preheat oven to 400°F.
Arrange pears in an overlapping fan pattern over chilled crust.
In a small bowl, mix together the remaining flour, sugar and butter. Crumble mixture over top of pears.
Peel and slice pears. Remove crust from freezer and arrange pears in an overlapping fan pattern.
Bake tart until crust is golden brown and filling is bubbly (about 35 minutes).
Serve slices of tart with whipped cream or a la mode.