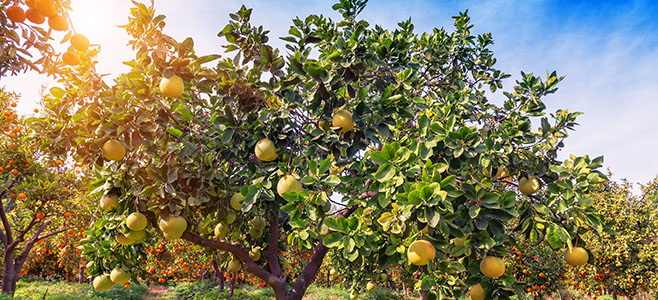 Have you been tempted to buy citrus trees online, but you're not sure how to plant them in a way that will guarantee you get fruit?
Citrus trees include orange, grapefruit, lemon, tangerine and lime varieties, among others. Because they require full sun on a daily basis in order to produce fruit, citrus trees (like Honeybell orange trees) generally do best in USDA growing zones 9-10 when planted outside. (Note that it is possible to grow dwarf citrus trees, like a mini lime tree or citrus cocktail tree, when the trees are kept in pots and moved indoors during the cold weather months.)
Living in a growing zone friendly to citrus trees is only a start, however…to get fruit, how you plant them is just as important as where. So before you go looking for citrus trees for sale online, consider these five (5) useful planting tips for setting multiple citrus trees:
Location, location, location. Choose a spot to plant your citrus grove in that receives a minimum of eight hours of sun each day. Be sure no buildings or other trees impede the sunlight to that spot, and that it's located at least twenty feet away from the nearest power lines. To minimize the risk of root damage, your trees should also be planted at least fifteen feet away from paved areas and buildings.
Room to grow. If you're planting more than one standard-sized citrus tree, be sure to space them at least fifteen feet apart, with a good 25-30 feet between each row. Smaller, or "dwarf" citrus trees (including standard-sized kumquat trees) don't need quite as much space…these can be planted closer together in rows, while the rows themselves can also be closer together (about 10-15 apart for both).
Make the most of your space. When digging the planting holes for your new trees, measure the distance between the top-most root and the bottom of the root ball of the new tree and make the hole slightly shallower than this depth and as wide as possible (at least 1½ times the width of the ball (don't dig the hole deeper than the root ball – you can also drill holes below the root ball in compacted soil or rock to encourage some deep roots). Then, maximize usable space on smaller plots of land by planting two to four trees in one planting hole, leaving 18-24″ of space between each tree in the planting hole.
Allow enough space between planting holes. Be sure to allow a radius of ten feet between each planting hole (whether the planting hole holds two-, three- or four-tree groupings).
Keep things uniform. At the time you plant them, trim all the trees in a single planting hole back to the same height. Then, prune them as needed to keep them growing roughly the same size.
We hope these tips will help you when you go shopping for online citrus trees at Citrus.com!
Related Links:
Growing Tips for Year-Round Edible Plants 
7 Wild Edible Backyard Plants 
Guide to Growing Edible Plants 
Grapefruit Guide: Health Benefits and Varieties