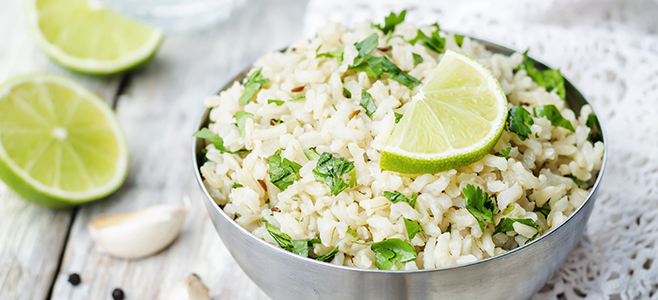 Make your own burrito bowls at home with this tasty, healthy recipe! Excellent in Mexican or Asian-inspired cuisine, this irresistible rice dish is so good you may just eat it up by itself. Fresh cilantro and lime juice add zine and brightness to this dish so it complements your favorite dishes perfectly.
Ingredients:
2 T. extra-virgin olive oil
1½ c. basmati or other long-grain white rice
1 clove garlic, minced
2¼ c. water
1 tsp. salt
Finely grated zest of one lime
3 T. lime juice
1 c. lightly packed chopped cilantro (leaves and tender stems only)
Directions:
Heat olive oil in a medium saucepan over medium-high heat. Add rice and stir to coat. Cook, stirring occasionally, until the rice has started to brown. Add garlic another minute.
Add water, salt, and lime zest. Bring to a rolling boil, then cover, turn heat to low, and maintain at a very low simmer for 15 minutes. Remove from heat and allow to steam (covered) ten minutes.
Transfer rice to a serving bowl. Pour lime juice over the rice and toss with chopped cilantro. Serve with chicken, shrimp or steak in Mexican or Asian dishes.