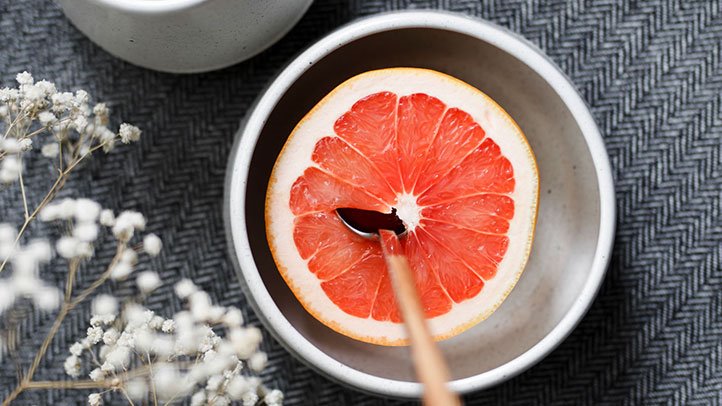 Looking for a better way to start the day? Skip the daily vitamin and enjoy a fresh, juicy grapefruit instead! Packed with vitamins, this delicious citrus fruit nutritious and affordable. You may even want to try growing your own grapefruit tree at home!
Why Grapefruit is so Good for You
Traditionally, when people think "grapefruit," weight loss is the first thing to come to mind. But while grapefruit is both low in calories and filling, there's much more to it than that. According to ESHA Research, just half a serving has 100mg of vitamin C, which benefits the immune system. Grapefruit is also high in vitamin A, rich in antioxidants, and is a good source of other minerals.
If you're looking for a way to keep your cholesterol in check, you'll be glad to know that both white and red-fleshed grapefruit varieties can reduce so-called "bad" cholesterol levels. Grapefruit nourishes the blood with protective enzymes and necessary dietary fibers like pectin, which can also lower triglyceride levels.
Adding grapefruit to your diet also helps detoxify and cleanse the system of harmful chemicals we're exposed to every day. Grapefruit is proven to tone the colon and digestive tract, and is a good source of limonoids, which aid in detoxifying the liver.
Does Grapefruit Really Help with Weight Loss?
Yes, grapefruit really does help you lose weight: principal researcher Dr. Ken Fujioka with the Nutrition and Metabolic Research Center at Scripps Clinic in San Diego led a 12-week study during which weight, insulin secretion and other metabolic factors of 100 participants were monitored. On average, those people whose only dietary change was to add half a grapefruit or a serving of grapefruit juice with every meal lost in excess of three pounds, and many lost more than ten pounds. This is probably because grapefruit curbs hunger, hydrates the body, contains high amounts of enzymes to aid digestion, and is low in sodium – all metabolism-boosting qualities. According to the U.S. National Library of Medicine National Institutes of Health, participants in a study who ate fresh grapefruit before meals experienced profound weight-loss results.
So, if you're looking to slim down, a serving of fresh grapefruit for breakfast is an excellent way to begin the day!
In the Pink
There are many grapefruit tree varieties, but if you want some extra nutrients in the grapefruit you grow yourself, you may want to narrow your search to pink grapefruit trees for sale.
The deep red flesh of ruby red grapefruits indicate that the fruit is high in lycopene, a carotenoid and phytonutrient. Studies have shown that lycopene is a cancer fighter that can inhibit tumor growth. The fresh fruit is nutrient rich in antioxidants that fight free radicals, which can damage the body's cells. Men who eat lycopene-rich fruits can greatly reduce their risk of developing prostate cancer. You'll be delighted to know that you can find Ruby Red Grapefruit Trees (and other grapefruit varieties) for sale at Citrus.com!
Big Fruit, Small Spaces
Not sure what variety of grapefruit you want to grow? A cocktail grapefruit tree is a good compromise because the grafted tree is capable of growing more than one variety of grapefruit on the same tree, giving you a choice.
Don't have much space, or don't live in a climate that's friendly to grapefruit trees? Buy a dwarf grapefruit tree! A dwarf grapefruit is a perfect solution for when you want a smaller tree that still produces a full-sized fruit. Dwarf grapefruit trees only reach heights of around twelve feet, so you can enjoy the large, tangy citrus fruit without the hassle of raising a large tree. You can grow these dwarf grapefruit trees in a large container or in the ground…but if you keep them in a container, you can move them indoors when the temperature drops!
Related Articles:
• Easy Ways to Eat Grapefruit
• Everything You Wanted to Know About Navel Oranges