Have you wondered how to grow a lemon tree? Do you have enough space to plant a blood orange? In a general sense, all citrus trees have similar requirements for light, fertilizer, watering, and pruning. However, some aspects vary for certain trees such as space requirements or cold hardiness. This article covers three points to consider before you set out to find those perfect citrus trees for sale.
Match Citrus Tree Size To Location
The first thing to determine is where your new citrus tree will be planted. The time and attention you spend to match your tree to the available space will reward you with a happy, healthy tree, and easy management as your citrus tree grows. Dwarf citrus trees are the smallest, and reach a size of 10 to 12 feet tall, and 9 to 11 feet wide. Standard trees are larger, and attain dimensions up to 25 feet high, and 18 feet wide. Choose a tree that will fit the space you have without constant pruning. Also consider how a full-grown citrus tree will affect other plants or structures nearby. Carefully view your location, and visualize the mature tree there. Be sure to allow it room to grow.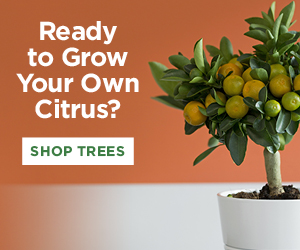 Choose The Best Citrus Tree For Your Climate
Most citrus trees are hardy to U.S. Department of Agriculture Zones 9 to 11. But some citrus varieties are more sensitive to cold than others. For example, the least cold hardy of all citrus trees is the Mexican lime. The Mexican lime tree will only tolerate temperatures down to 28 degrees Fahrenheit. On the opposite end of the cold hardy spectrum is the kumquat. Kumquat trees are hardy down to a frigid 10 degrees Fahrenheit, and are suitable to USDA Zone 8, if the location is sheltered from wind. Always select a citrus tree with a USDA plant hardiness zone to match your location.
Where You Buy Your Citrus Tree Matters
When you buy your new orange tree, lemon tree, or key lime tree from a reputable and experienced grower, you can be confident that you are introducing a healthy tree into your yard. A properly nurtured citrus tree that is free of pests or diseases will grow into a beautiful specimen. A citrus tree that has been cultivated properly, raised correctly, then shipped carefully provides the foundation for your successful citrus growing journey.
So match the right tree size to your location. Choose a citrus variety that will thrive in your climate. Then purchase your citrus tree from a reputable, experienced grower. Follow these three simple guidelines, and you will be rewarded with delicious fruit to enjoy and share for years to come.