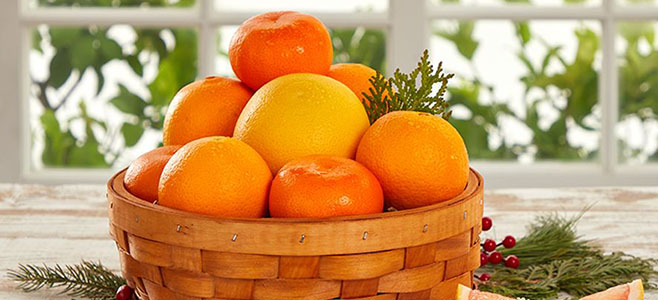 Looking for an economical yet beautiful way to decorate? It might be one of the last things you think of, but have you considered using citrus gifts? Citrus fruits are really quite varied, making them a good choice when you need to decorate!
To help you out, we've compiled a handy list of unique ideas to incorporate some delicious citrus into your decorating and the overall decor of your home.
Why Choose Citrus Gifts for Decorating?
When you go about decorating, whether it is for an event such as a party, wedding, or meeting, one thing you want to do is be original. Everyone uses flowers, so what's the fun in that? Not to mention flowers are delicate and expensive. You will always be running into problems with them wilting, drooping, and tearing. Petals falling sounds really lovely until it is your job to clean them up.
Paper decorations are no better. Not only do they make your party or event look cheap and tacky, but paper decorations aren't very sturdy. All it takes is a little bit of wind or water, and they are all but ruined. Some people like decorating with candles, but then you are dealing with a fire hazard. So, what's left? There are issues with almost every type of decoration you see people commonly use.
The best answer is to use citrus fruits for decorating. Here is why citrus fruits make the best decorations:
Citrus fruits are a unique way to decorate. No matter how you choose to incorporate them, citrus fruits are not a common decoration at parties. However, they will give your event a different look and feel instead of the same old, tired streamers.
Citrus fruits smell amazing! If you thought you wanted to use scented votives for a nice aroma, try citrus fruit. They leave a fresh, beautiful, and natural smell that your party-goers will love.
Citrus fruits won't cause your guests to have the sniffles. When you choose flowers as a decoration, you might have forgotten that some of your guests will have a bit of an allergic reaction to some of the unusual flora. This very rarely happens when citrus gifts take center stage.
Citrus fruits are sturdy and won't blow away. Citrus fruits aren't going to wrinkle or droop or have their petals fall off. They are even going to be just fine if they are subjected to wind and rain.

Citrus fruits don't pose a hazard or make a mess. Many decorations pose a threat of fire or spilling, or they just flat out make a mess like confetti sometimes does. You don't have any of these problems when you decorate with citrus fruits.
Citrus fruits are varied. They come in many different shapes and sizes, making them perfect for decorating with, no matter what colors or sizes you need.
Citrus fruits are hearty. These fruits have a surprisingly long shelf life for a perishable good, so you don't have to worry about them spoiling quickly. Before harvesting, treat them with a natural citrus pesticide to help keep them safe.
Citrus fruits go with everything! It doesn't really matter what your theme is or what your colors are because citrus fruits go with everything! You can use them if you are having a large, upscale soiree or a small, low-key get-together- either way, citrus fruits are great to decorate with!
Now that you know what you should be using to decorate with, let's talk about the best ways to use citrus decorations.
How to Decorate with Citrus Fruit
As with any kind of decorating, you will want to use your imagination and get creative. The best thing you have going for you here is that because the citrus fruits are so versatile, you can do pretty much anything you want to do with them!
Bowls of Citrus Fruit
Bowls of citrus fruit can be used as displays on any surface you want to place them on. Of course, they will look good at the center of a table, but there are other good landing spots, too.
Try a bowl of fruit on an accent table or at your home's entryway. You can also use this bowl to give a piece of fruit to each guest, either as they enter or leave as a party gift.
Baskets of Citrus Fruit
Just like bowls, baskets of fruit make great centerpieces. They are also appropriate for outside tables because you can be assured that they won't blow away.
One of the best things about baskets of citrus fruits as a decoration is that they work really well on a picnic blanket. They sit just fine on the ground and can help to hold down your ground cover. Then, when the meal is over, everyone will have a perfect piece of lovely fruit to enjoy for dessert!
Display Your Citrus Fruit
Citrus fruit doesn't have to be limited to baskets and bowls. You can also use your citrus fruit in a display or in a still life and let it actually be a piece of art. Citrus fruits can also add a different shape or pop of color to your overall scene.
Display the Whole Plant
When using citrus fruit as a decoration, you don't have to be limited to just using the fruit. You can actually use the entire plant. For example, if you have a potted citrus tree, you can always use the whole plant as a decoration. Citrus trees are just as pretty and smell even better than your average house plant.
Enjoy Your Citrus Gifts
Citrus trees of any kind are a wonderful addition to your lifestyle. They give you the chance to not only make healthier decisions for yourself but help other people around you make healthier choices too.
Share your love of citrus fruit by using your fruits to decorate with and by giving citrus gifts as party favors and other gifts to show your friends and family their beauty and value.