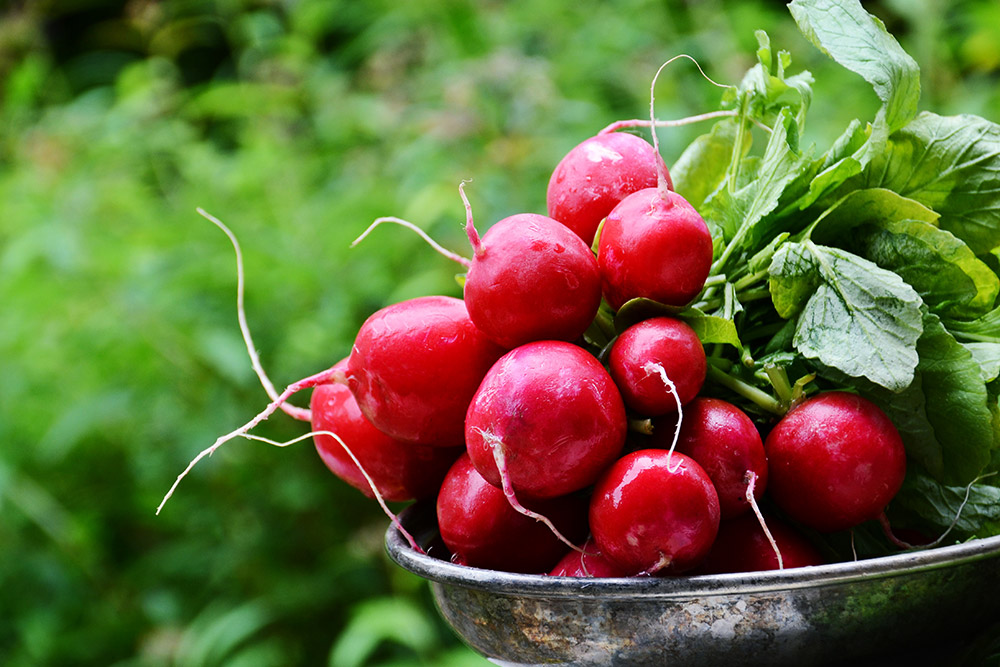 It makes sense that the kitchen is the one place in your house where you make use of edible plants, but have you ever thought about growing food in your kitchen? Growing your own food is fun, rewarding, and healthful. Here are our suggestions for seven edible plants you can grow right in your own kitchen.
1. Radishes
Those spicy, bright red, root vegetables that add zip to salads and stews are not only full of vitamins, they are great for growing in the kitchen. Grow them in a south-facing window and thin out planted seeds so the roots have room to grow. Radishes grow quickly, so as soon as you harvest them you can plant more. You can even start seeds once per week, so you can harvest radishes weekly over the summer months.
2. Lettuce
Growing lettuce indoors is not only possible, it's productive. Lettuce that is growing indoors is less susceptible to pests, insects, and leaf-loving animals like rabbits and deer. Romaine, Red Leaf, and Butter Lettuce are all varieties that do well inside. Grow individual heads in 8-inch pots and line your kitchen window with two of each variety for a mixed green salad anytime you crave one. Damp but well-drained soil, at least 5 or 6 hours of sun per day, and a pot with holes for drainage is all you need to grow kitchen lettuce.
3. Green Onions
Green onions are easy to grow inside and there is nothing better than having your own fresh green onions growing right in your kitchen. Start them from root bottoms of green onions you have used, or buy green onion seeds. You can grow them in soil or even in an inch of pure water in a glass canning jar. Refresh the water weekly and grow your own green onions in the kitchen window.
4. Pineapple
The top of a fresh pineapple can be a fabulous kitchen plant. Remove all but the circular base below the leaves and plant directly in a pot with well-drained soil. Place in a sunny window and be patient. The plant will grow right away, but a new fruit may take up to a few years. Even then, a pineapple grown indoors is likely to produce a small fruit, but growing the plant is still fun.
5. Kale
Kale is suddenly the darling of the culinary world. It is rich in vitamins and minerals and easy to grow. Grow Kale in rich soil and give it at least 5 or 6 hours of sun per day. Any window that gets natural daylight is a prime spot to grow Kale. Harvesting your own Kale right in your kitchen will surely make you the talk of the town, or at least the talk of your next dinner party.
6. Rosemary
Folklore says always grow Rosemary by your garden gate, but growing this savory herb in the kitchen makes much more sense. Rosemary likes sandy loam soil that drains well. Place a potted Rosemary plant anywhere in your kitchen that gets some sunlight each day and harvest the piney stalks for chicken dishes and fragrant stews. You can even use a bundle of Rosemary as a flavorful brush to baste barbecue.


7. Peppers
Yes you can grow hot, sweet, and brightly colored peppers right in the kitchen. Smaller varieties like Serrano, Datil, and Scotch Bonnet are hot, but do well in pots. If you want to grow Bell Peppers in a sunny kitchen spot, look for dwarf varieties and be sure the soil drains well. Harvest the peppers when they are ripe, but don't wait to grow the largest ones possible. Having a few plants, and picking three or four smaller peppers, is a better strategy for a kitchen-grown pepper plant.
8. Basil
Every kitchen needs a Basil plant growing over the sink. This sweet herb has been grown indoors and out for centuries. Once you have a kitchen Basil plant going, you will wonder how you ever lived without it. Fresh Basil for sauces, salads, and even drinks is something that every cook will come to treasure. Clear off a small space on a bright window and start growing Basil in your kitchen today.▲6