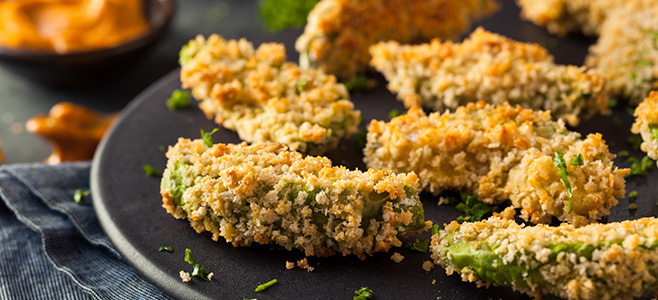 Love avocado, but getting tired of guacamole? These crispy strips make an excellent appetizer at your next gathering! Flaky panko crumbs give them a satisfying crunch, while the spicy-lime mayo adds extra zing. The-salt-and pepper coating adds plenty of flavor, but you can also spice things up even further by adding chili powder or other seasonings. This is a great treat for game day!
Ingredients:
For the fried avocado strips:
2 large avocados
½ c. flour
½. tsp. salt
1 dash ground black pepper
2 large eggs, beaten
1 c. panko breadcrumbs
1 Tbsp. oil
For the spicy cilantro-lime mayo:
½ c. mayonnaise
1 Tbsp. cilantro, chopped
1 Tbsp. lime juice
¼ tsp. smoked paprika
¼ tsp. garlic powder
⅛ tsp. cayenne pepper
⅛ tsp. salt
Directions:
For the spicy cilantro-lime mayo: Whisk together mayonnaise, chopped cilantro, lime juice, smoked paprika, garlic powder, and cayenne pepper in a small bowl. Add salt as needed. Cover and refrigerate.
For the fried avocado strips: Slice avocados in half; remove pit and peel, and slice each half into 4 or 5 strips.
Add flour, ½ teaspoon of salt, and a ⅛ pepper to a small bowl. In a second bowl add beaten eggs; in a third bowl add panko breadcrumbs.
Dip avocado strips one at a time in flour and turn to coat all sides. Coat with beaten egg. Let excess egg drip off and dip in panko crumbs, pressing gently to coat. Remove coated avocado strips to a plate.
Add about an inch of cooking oil to a deep sauté pan and heat to 350° Add 4-6 avocado strips to hot oil and fry until coating is golden brown (about 2 minutes).
Remove fried avocado strips to a paper towel-lined plate.
Arrange fried avocado on a small platter or plate with the spicy cilantro-lime mayo and serve.